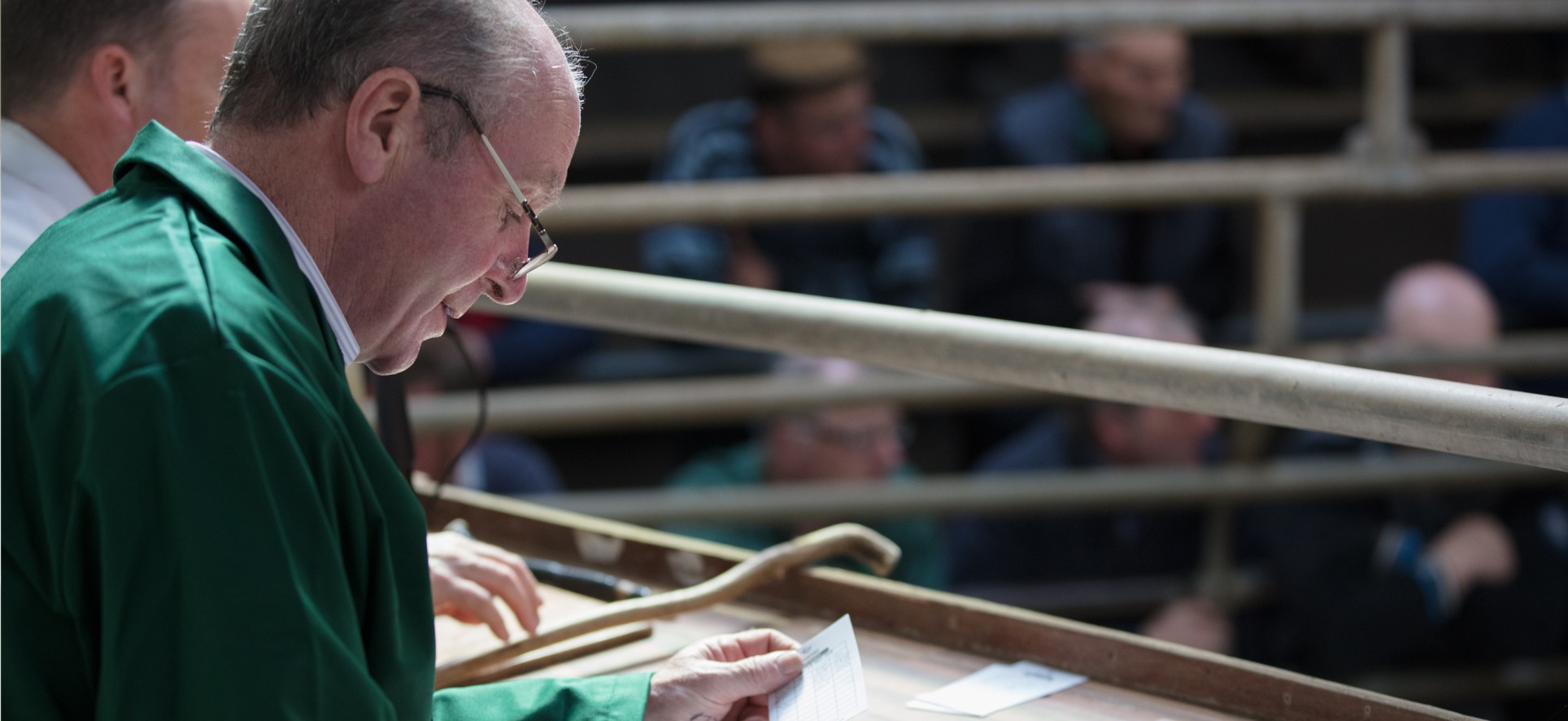 Aurivo announces temporary
suspension of livestock sales
Aurivo Marts has announced that it will be temporarily suspending all its livestock sales from Monday the 23rd March until at least the end of the month. This decision has been made in light of Covid-19 and will be reviewed in the intervening period.
Pre-booked sales at our centres in Ballymote on Thursday, Balla on Saturday and Mohill on Saturday will proceed under strict protocols.
These include:
Only customers that have business to conduct should attend the Marts.
Strictly no children allowed.
Buyers must observe the recommended protocols around social distancing and there will be restrictions around the number of sellers allowed to attend the ring.
Sellers who do not want to attend to sell can request the Mart to do so on their behalf
All mart canteen facilities will be closed with immediate effect.
Anyone who has been out of the country recently or been in contact with people exhibiting any symptoms is asked not to attend.
Aurivo's priority is the health and safety of our employees, members, customers, suppliers and the communities in which we operate.  Aurivo acknowledges the support of its customers and staff and apologies for the inconvenience.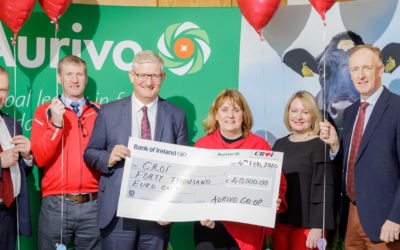 Aurivo, the globally-focussed Agribusiness which is headquartered in the North West of Ireland, has presented a cheque worth €40,000 to Croí, the Heart & Stroke Charity.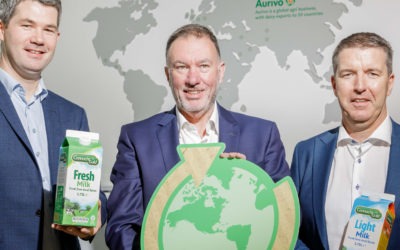 Aurivo the globally-focused agribusiness headquartered in the North West of Ireland, has announced the introduction of its new 1.75L renewable bio-based carton for its Connacht Gold milk brand.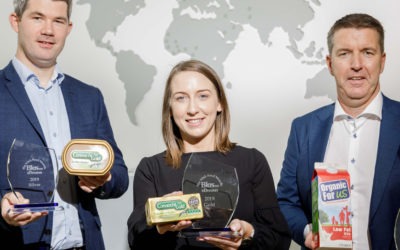 Aurivo has picked up six awards at this year's prestigious Blas na hEireann Irish Food Awards for its excellence in consumer product production, under its Connacht Gold and Organic for Us brands as well as its retail partner production business.
Title

Address

Description

Finisklin Business Park, Finisklin, Sligo, Ireland

Aurivo House
Finisklin,
Sligo.
Phone: 071 9186500
Fax: 071 9185239
Email: info@aurivo.ie

Aurivo Dairy Ingredients, Lung, Ballaghaderreen, Co. Roscommon, Ireland

Aurivo Dairy Ingredients
Ballaghaderreen,
Co. Roscommon
Phone: 094 9860114
Fax: 094 9860157
Email:dairyingredients@aurivo.ie

Unit 7A, The Mill Business Park, Dublin Rd, Kilcolman, Ballaghadereen, Co. Roscommon, Ireland

Aurivo Animal Feeds
Ballaghaderreen,
Co. Roscommon
Phone: 094 9860234
Fax: 094 9860238
Email: nutrias@aurivo.ie

Homeland, Ballaghaderreen

4 College Ct, Ballaghaderreen, Co. Roscommon, F45 DR13, Ireland

Contact Name: Francis McDonagh
Address: Ballaghaderreen, Co. Roscommon
Phone: 094 9860081
Fax: 094 9860373
Email: Francis.McDonagh@aurivo.ie

Farm Commercial Specialist: Gary Keane
Mobile: 087 185 4535

Opening Hours:
Mon - Fri: 9am - 5.30pm
Sat: 9am - 4pm
Open through lunch

Crossmolina Rd, Ballina, Co. Mayo, Ireland

Contact Name: Donal Tuohy

Address: Crossmolina Rd, Ballina, Co Mayo.
Phone: 096 73588
Fax: 096 73589
Email: Donal.tuohy@aurivo.ie

Farm Commercial Specialist: Martin Boland
Mobile: 087 374 4150

Opening Hours:
Mon - Fri: 9am - 5.45pm
Sat: 9am - 5pm
Open through lunch

Glencar, Fortfield, Moneenbradagh, Castlebar, Co. Mayo, Ireland

Manager: Padraic Prendergast
Address: Springfield, Castlebar, Co. Mayo
Phone: 094 9022311
Fax: 094 9022910
Email: pprendergast@aurivo.ie

Farm Commercial Specialist: Gary Keane
Mobile: 087 185 4535

Opening Hours:
Mon - Fri: 9am - 5.45pm
Sat: 9am - 4.30pm
Open through lunch

5 Castlebar Rd, Carrowbeg, Westport, Co. Mayo, Ireland

Contact Name: Gerard Coyne
Address: Lodge Rd, Westport, Co. Mayo
Phone: 098 27535
Fax: 098 27543
Email: gerard.coyne@aurivo.ie

Farm Commercial Specialist: David Whelan
Mobile: 087 367 4073

Opening Hours:
Mon - Sat: 9:00am - 5.30pm
Sundays & Bank Holidays: 12.30pm - 5.00pm

2 Fraunhill, Swineford, Co. Mayo, Ireland

Contact Name: Alan Gibbons
Address: Swinford, Co Mayo.
Phone: 094 9251360
Fax: 094 9251360
Email: alan.gibbons@aurivo.ie

Farm Commercial Specialist: Gary Keane
Mobile: 087 185 4535

Opening Hours:
Mon - Fri: 9am - 6pm
Sat: 9-5pm

Achonry, Co. Sligo, Ireland

Contact Name: Darragh Halligan
Address: Achonry, Tubbercurry, Co.Sligo
Phone: 071 9184127
Email: darragh.halligan@aurivo.ie

Farm Commercial Specialist: Emer Reilly
Mobile: 087 173 8249

Opening Hours:
Mon, Tues, Wed, Fri: 9am - 5.30pm
Thurs, Sat: 9am - 1pm
Closed for Lunch from 1.30pm to 2.15pm

Homeland Plus, Deep Water Quay, Sligo

Icos House, Finisklin Rd, Cartron, Sligo, Ireland

Contact Name: Lisa Doocey
Address: Deep Water Quay, Sligo
Phone: 071 9161879
Fax: 071 9150274
Email: lisa.doocey@aurivo.ie

Farm Commercial Specialist: Emer Reilly
Mobile: 087 173 8249

Opening Hours: Mon - Fri: 9am - 6pm
Sat - 9am - 5.30pm
Sundays & Bank Holidays: 12pm - 5pm
Open through lunch

R362, Co. Roscommon, Ireland

Contact Name: Tony White
Address: Athleague, Co Roscommon.
Phone: 090 6663322
Fax: 090 6663580
Email: twhite@aurivo.ie

Farm Commercial Specialist: James Kelly
Mobile: 087 272 3636

Farm Commercial Specialist: Mark Whelan

Mobile: 087 608 2036

Opening Hours:
Mon - Fri: 9am - 6pm
Sat: 9am - 4pm
Closed for lunch 1pm - 2pm

Longford House, Longford, Castlerea, Co. Roscommon, Ireland

Manager: John Ruane
Address: Castlerea, Co Roscommon.
Phone: 094 9620162
Fax: 094 9620978
Email: jruane@aurivo.ie

Farm Commercial Specialist: Colm Duffy
Mobile: 087 092 9434

Opening Hours:
Mon - Fri: 9am - 5.30pm
Sat: 9am - 4pm
Closed for Lunch 1pm - 2pm

R294, Rathscanlan, Co. Sligo, Ireland

Contact Name: Francis Gallagher
Address: Ballina Rd., Tubbercurry, Co. Sligo
Phone: 071 9185571
Email: Francis.gallagher@aurivo.ie

Farm Commercial Specialist: Gary Keane
Mobile: 087 185 4535

Opening Hours:
Mon - Fri: 9am - 5.30pm
Sat: 9am - 4.30pm
Open through lunch

Homeland Agri, Riverstown

Cuiltylough, Riverstown, Co. Sligo, Ireland

Contact Name: David Faughnan
Address: Riverstown, Co. Sligo
Phone: 071 9165103
Fax: 071 9165334
Email: david.faughnan@aurivo.ie

Farm Commercial Specialist: Emer Reilly
Mobile: 087 173 8249

Opening Hours:
Mon - Fri: 9am - 5.30pm
Sat: 9am - 1.00pm
Closed for lunch 1.30pm - 2.15pm

R293, Keenaghan, Co. Sligo, Ireland

Contact Name: Anita McNicholas
Address: Ballymote, Co. Sligo
Phone: 071 9183452
Fax: 071 9183023
Email: anita.mcnicholas@aurivo.ie

Farm Commercial Specialist: Emer Reilly
Mobile: 087 173 8249

Opening Hours:
Tues - Fri: 9am - 5.30pm
Mon, Sat: 9am - 1pm
Closed for lunch 1.30pm - 2.30pm

N59, Co. Sligo, Ireland

Contact Name: Cathal Kelly
Address: Skreen, Co. Sligo
Phone: 071 9166711
Fax: 071 9166796
Email: ckelly@aurivo.ie

Farm Commercial Specialist: Martin Boland
Mobile: 087 374 4150

Opening Hours:
Mon, Tues, Thurs, Fri: 9.30am - 5.30pm
Sat: 9am - 4.45pm. Closed Wed.
Closed for Lunch 1pm to 1.45pm

2 Clareville, Clare, Co. Mayo, Ireland

Contact Name: Shane Kivlehan
Address: Claremorris, Co. Mayo
Phone: 094 9371292
Fax: 094 9371292

Farm Commercial Specialist: David Whelan
Mobile: 087 367 4073

Opening Hours:
Mon - Fri: 9am - 5.30pm
Sat: 9am - 5pm
Open through lunch

Abbey View, Abbey Rd, Friarsquarter West, Ballinrobe, Co. Mayo, Ireland

Contact Name: Michael Canny
Address: Ballinrobe, Co. Mayo
Phone: 094 9541134
Fax: 094 9520015
Email: michael.canny@aurivo.ie

Farm Commercial Specialist: David Whelan
Mobile: 087 367 4073

Opening Hours:
Mon - Fri: 9am - 5.30pm
Sat: 9am - 5pm
Open through lunch

2 Spa Brae, Kinlough, Co. Leitrim, Ireland

Contact Name: Ernan McGarrigle
Address: Kinlough, Co. Leitrim
Phone: 071 9841413
Email: emcgarrigle@aurivo.ie

Farm Commercial Specialist: Emer Reilly
Mobile: 087 173 8249

Opening Hours:
Mon, Tues, Wed, Fri, Sat: 9am - 5.30pm
Closed Thurs
Closed through lunch 1pm - 2pm

Nagin House, Creevy, Ballyshannon, Co. Donegal, Ireland

Contact Name: Hugh McGarrigle
Address: Cashelard, Ballyshannon, Co. Donegal
Phone: 071 9851296
Fax: 071 9852448
Email: hmcgarrigle@aurivo.ie

Farm Commercial Specialist: Emer Reilly
Mobile: 087 173 8249

Opening Hours:
Mon - Fri: 9am - 5.15pm
Sat: 9am - 4pm. Closed for Lunch 1.15pm to 1.45pm

Moydrum Rd, Blyry Upper, Athlone, Co. Westmeath, Ireland

Contact Name: Jack Moran
Address: Moydrum Business Park, Cavan Exit, Main Dublin Road, Athlone.
Phone: 090 6465652
Email: jmoran@aurivo.ie

Farm Commercial Specialist: James Kelly
Mobile: 087 272 3636

Opening Hours:
Mon, Tue, Thurs, Fri 9am - 5.30pm
Closed for lunch 1pm - 1.45pm
Closed Wednesday
Sat 9am - 4.30pm (Open through lunch)

R293, Co. Sligo, Ireland

Contact Name: Kevin Kane
Address: Gurteen, Co Sligo.
Phone: 071 9182007
Fax: 071 9182054
Email: kkane@aurivo.ie

Farm Commercial Specialist: Colm Duffy
Mobile: 087 092 9434

Opening Hours:
Mon, Tues, Wed, Fri: 9am - 5.30pm
Thurs & Sat: 9am - 1pm
Closed for lunch 1pm - 2pm

Quay Rd, Townplots East, Co. Mayo, Ireland

Contact Name: Darragh McGarry
Address: The Quay, Killala, Co Mayo.
Phone: 096 32044
Fax: 096 32315

Farm Commercial Specialist: Martin Boland
Mobile: 087 374 4150

Opening Hours:
Mon, Wed, Thurs, Fri: 9am - 5pm
Tues & Sat: 9am - 1pm
Open through lunch

Station Rd, Termon, Co. Roscommon, Ireland

Contact Name: Paul Fahy
Address: Boyle, Co Roscommon.
Phone: 071 9662427
Email: paul.fahy@aurivo.ie

Farm Commercial Specialist: Colm Duffy
Mobile: 087 092 9434

Opening Hours:
Mon, Tues, Thurs, Fri: 9am - 5.30pm
Wed, Sat: 9am - 1pm
Closed for lunch 1pm - 1.45pm

N83, Kilmannin, Co. Mayo, Ireland

Contact Name: Joe Slattery
Address: Ballyhaunis, Co Mayo
Phone: 094 9630166
Fax: 094 9630274
Email: jslattery@aurivo.ie

Farm Commercial Specialist: Martin Boland
Mobile: 087 374 4150

Opening Hours:
Mon - Sat: 9am - 5.30pm
Open through lunch

R297, Co. Sligo, Ireland

Contact Name: Kevin Flynn
Address: Castletown, Easkey, Co Sligo.
Phone: 096 49043

Farm Commercial Specialist: Martin Boland
Mobile: 087 374 4150

Opening Hours:
Mon, Wed, Thurs, Fri: 9am - 5.30pm
Closed for lunch: 1-2pm
Closed Tuesday.
Sat 9am - 4.30pm
Closed for lunch 1-1.30pm

Homeland Agri, Kiltoghert

R299, Co. Leitrim, Ireland

Contact Name: Ursula Crossan
Address: Carrick on Shannon, Co Leitrim.
Phone: 071 9622113
Fax: 071 9622249
Email: Ursula.crossan@aurivo.ie

Farm Commercial Specialist: Colm Duffy
Mobile: 087 092 9434

Opening Hours:
Mon - Fri: 9am - 5.30pm
Sat: 9am - 4pm
Closed for Lunch 1pm - 2pm

1 Hyde St, Mohill, Co. Leitrim, N41 V6T4, Ireland

Contact Name: Fiona Heslin
Address: Mohill, Co Leitrim.
Phone: 071 9631194
Fax: 071 9632057
Email: fheslin@aurivo.ie

Farm Commercial Specialist: Colm Duffy
Mobile: 087 092 9434

Opening Hours:
Mon - Fri: 9am - 5.45pm
Sat: 9am - 5.30pm
Open through lunch

Middle Rd, Ballyboe Lisnenan, Letterkenny, Co. Donegal, Ireland

Contact Name: Chris Lyons
Address: Ballyraine, Letterkenny
Phone: 074 9113314
Fax: 074 9124823
Email: Chris.Lyons@aurivo.ie

Farm Commercial Specialist: Johnathan Smyth
Mobile: 078 333 80089

Farm Commercial Specialist: John Alexandar
Mobile: 086 824 5937

Opening Hours:
Mon - Fri: 9am - 5.30pm
Sat: 9am - 2pm

Letterkenny Rd, Lifford, Co. Donegal, Ireland

Contact Name: Joe Carlin
Address: Lifford
Phone: 074 9141558
Fax: 074 9141961
Email: joe.carlin@aurivo.ie

Farm Commercial Specialist: Johnathan Smyth
Mobile: 078 333 80089

Farm Commercial Specialist: John Alexandar
Mobile: 086 824 5937

Opening Hours:
Mon - Sat: 9am - 5pm : Closed for Lunch 1pm to 1.30pm

Homeland Agri, Creeslough

Sue's Cottage, Rosscad, Creeslough, Co. Donegal, Ireland

Contact Name: Dominick Gallagher
Address: Creeslough
Phone: 074 9138078
Fax: 074 9138079 Email: dominick.gallagher@aurivo.ie

Farm Commercial Specialist: Johnathan Smyth
Mobile: 078 333 80089

Farm Commercial Specialist: John Alexandar
Mobile: 086 824 5937

Opening Hours:
Mon - Sat: 9am - 5.30pm
Closed for Lunch 1pm - 2 pm

Corner House, The Diamond, Drumbaran, Ardara, Co. Donegal, Ireland

Contact Name: Laurence Breslin
Address: Ardara
Phone: 074 9541888
Fax: 074 9537745 Email: laurence.breslin@aurivo.ie

Farm Commercial Specialist: Emer Reilly
Mobile: 087 173 8249

Opening Hours:
Tues - Fri: 9am - 5.30pm
Sat: 9-5PM
Closed for Lunch 1pm - 2pm

10 Dromore Rd Retail Park, Omagh BT78 1RE, UK

Manager: Alister Erskine
Address: Dromore Rd Retail Park, Omagh
Phone: 028 82 244184
Fax: 028 82 240909

Farm Commercial Specialist: Johnathan Smyth
Mobile: 078 333 80089

Farm Commercial Specialist: John Alexandar
Mobile: 086 824 5937

Opening Hours:
Mon - Sat: 9am - 5.30pm

R246, Co. Donegal, Ireland

Contact Name: Derek Stewart
Address: Kerrykeel
Phone: 074 9150179
Fax: 074 9150193
Email: derek.stewart@aurivo.ie

Farm Commercial Specialist: Johnathan Smyth
Mobile: 078 333 80089

Farm Commercial Specialist: John Alexandar
Mobile: 086 824 5937

Opening Hours:
Mon - Sat: 9am - 5.30pm
Closed for Lunch 1pm - 2 pm

Cartrongeeragh Business Park, Athlone Road, Cartronageeragh, Co. Longford, Ireland

Contact: Padraig Heany
Address: Athlone rd., Longford
Tel: 043 3336286

Farm Commercial Specialist: James Kelly
Mobile: 087 272 3636

Opening Hours:
Monday - Friday 9-6pm (Lunch 1.15-2pm)
Saturday - 9-4.30pm (Lunch 1.15-2pm)

Áras Mhaoilchiaraín, Chapel St, Belmullet, Co. Mayo, Ireland

Manager: Stephen Killeen
Address: Chapel Street, Belmullet, Co. Mayo
Tel: 097 81109
Email: stephen.killeen@aurivo.ie

Opening Hours:
Mon - Fri 9- 5:30pm
SAT - 9 - 4pm
Open through lunch

1, Carrigeens, Ballinfull, Co. Sligo, F91 K5D7, Ireland

Contact Name: David Currid
Address: Ballinfull, Co. Sligo
Phone: 071 9163154
Email: david.currid@aurivo.ie

Opening Hours:
Mon - Fri: 09:00 - 5.30pm
Sat: 9-4PM
Closed for lunch: 1-2PM

Aurivo Livestock Mart Ballymote

Laburnum Lodge, Fairgreen Rd, Rathnakelliga, Ballymote, Co. Sligo, Ireland

Manager: Stephen Hannon
Tel: 0818 301 401
Bookings: Pre Booking Monday 9.30 am – 1.00 pm for Thursday Sale

Aurivo Livestock Mart Ballinrobe

Abbey St, Friarsquarter West, Co. Mayo, Ireland

Manager: Tom Mc Guire
Tel: 094 95 41140
Bookings: Pre Booking Friday 9.30 am – 1.00 pm for Wednesday Sale

Aurivo Livestock Mart Balla

N60, Co. Mayo, Ireland

Manager: Michael Murphy
Tel: 0818 301 401
Bookings: Pre Booking Wednesday for Sat Sale 9.30 am – 11.00 am for Bullocks/Heifers
11.00 am – 1.00 pm for all Cows
Pre Booking Thursday for Weanling Sale 9.30am – 1pm

Aurivo Livestock Mart Mohill

1 Cappagh, Mohill, Co. Leitrim, Ireland

Manager: Stephen Hannon
Tel: 0818 301 401
Bookings: Pre Booking Tuesday 9.30 am – 1.00 pm for Saturday Sale