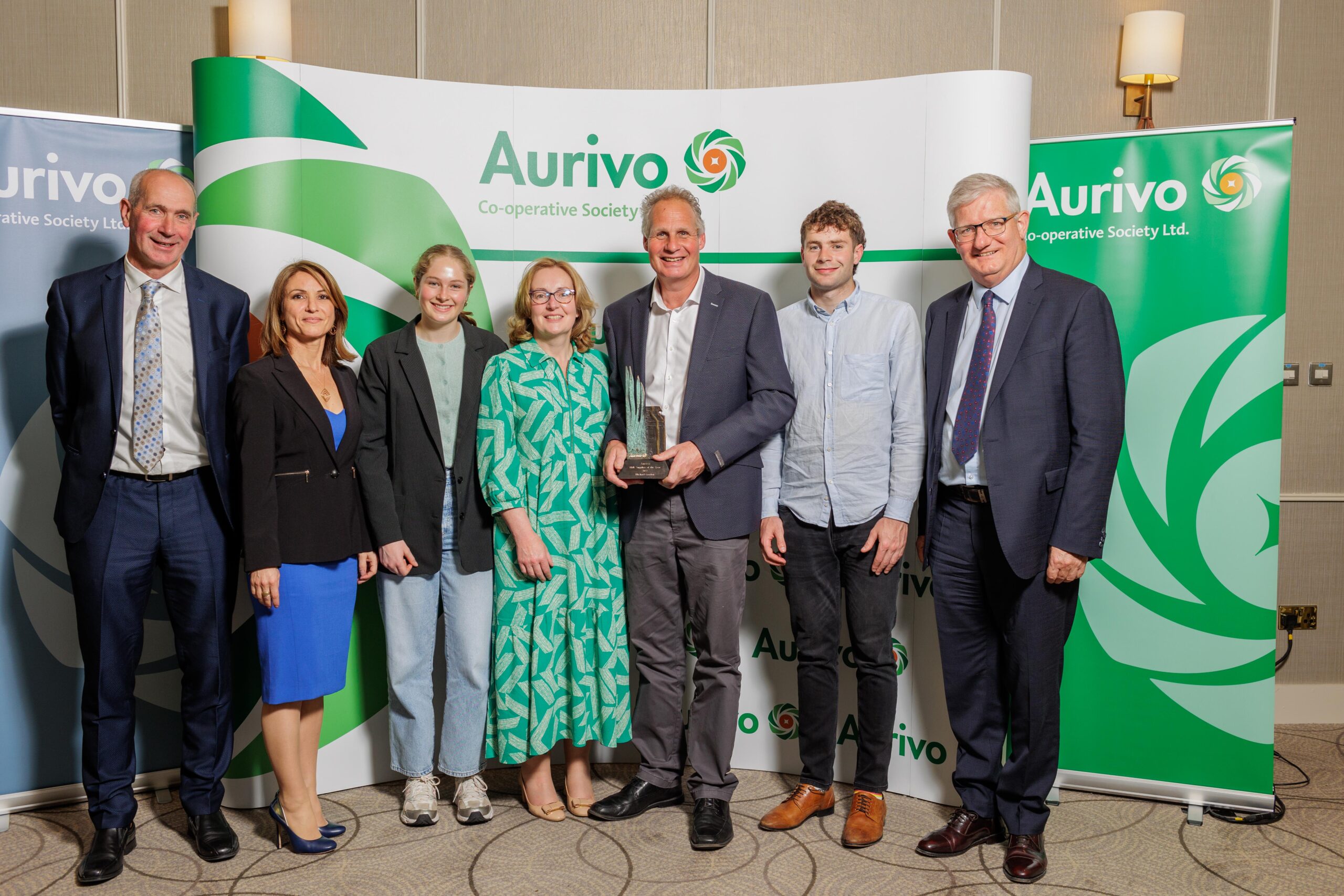 Aurivo recognises dairy farming excellence
at 16th annual Milk Quality Awards
Top Milk Supplier Award
The 16th annual Aurivo Milk Quality Awards saw the highest accolade of Aurivo Milk Supplier of the Year presented to Michael Gordon, who operates a family run dairy farm in Crossmolina, County Mayo. Michael was recognised by judges for his dedication to animal welfare, excellent milk quality, and sustainable farming practices.
Michael has been farming in Crossmolina, Co. Mayo since 1998. He converted from beef to dairying in 2018 and now milks 75 crossbred cows on 50 hectares. Michael's wife Ita and their children, Emily, Kevin, Ciara and Aoife are all involved in the farm. Michael enjoys working with his family and seeing the herd progress. The family take great pride in their herd and practise the highest standards of animal welfare from calf to cow.
Michael will now represent Aurivo at the NDC and Kerrygold Quality Milk Awards, which sets out to celebrate the best milk suppliers in Ireland.
In addition to the overall award, Michael received the Excellence in Udder Health award. Michael credits his success in this category to his continuous and close monitoring of his herd's cell count. Michael utilises data available to eliminate the spread of infection, by using culture and sensitivity testing to ensure cows receive the correct treatment and reduce the use of antibiotics on farm.
Donal Tierney, Chief Executive of Aurivo acknowledged the huge commitment to quality and standard of the winning dairy farmer entrants. "Now in its 16th year, the Aurivo Milk Quality Awards is an annual award programme which recognises a degree of excellence in dairy farming. I am delighted to be here today to congratulate our eight Milk Quality Award winners, who exemplify commitment to the highest quality of milk supply for both liquid and manufacturing milk.
 
"Our farming families' remarkable commitment and dedication allows us to produce the best quality milk and we are proud of the quality milk pool of our almost 1,000 suppliers in both the Republic and Northern Ireland."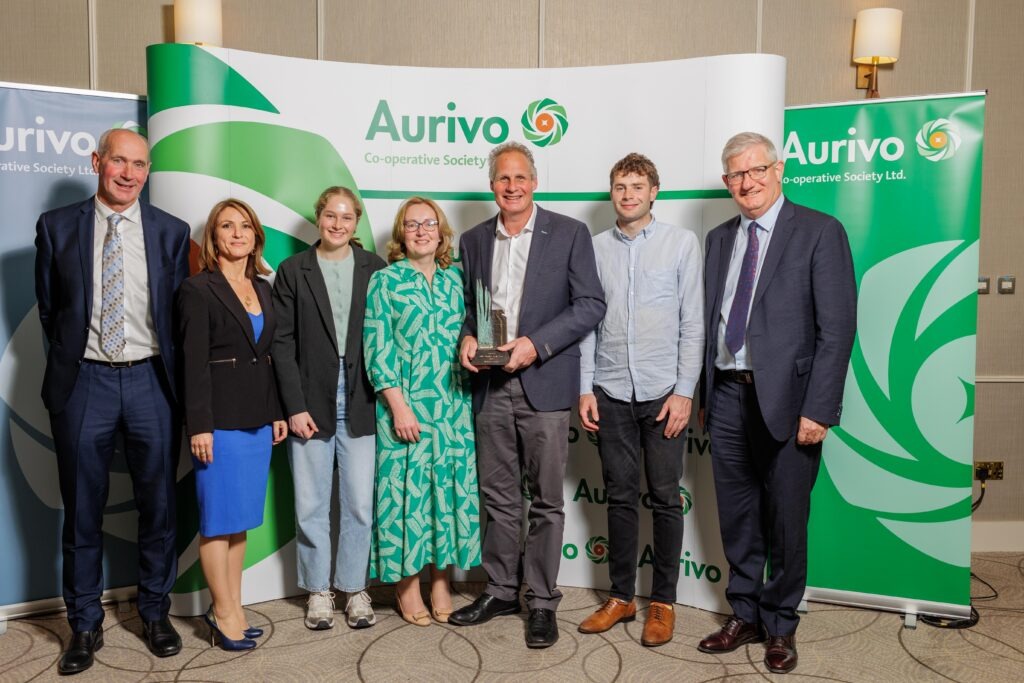 Left to right: Raymond Barlow Aurivo Chairman, Simona Ciorita Aurivo Dairy Advisor, Aoife Gordon, Ita Gordon, Michael Gordon, Kevin Gordon, Donal Tierney Aurivo CEO.
Seven other milk suppliers were also acknowledged for their contribution to dairy farming excellence in a range of award categories:
Aurivo Champion of Sustainability
Dolan Farming Ltd – Hollymount, Co. Mayo
Dolan Farming Ltd, a fifth-generation family farm in Hollymount, Co Mayo run by Louis, his wife Bernie and their son David were recognised by judges for their continuous focus on sustainability and the farm's low emission trajectory. Louis credits the family's success to their focus on crossbreeding to produce high protein and fat output. They have reduced the use of nitrogen on farm by using protected urea and 30% of their grazing platform has clover included.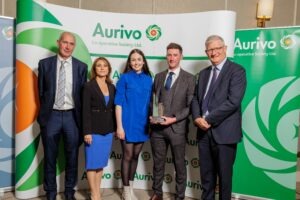 Left to right: Raymond Barlow Aurivo CEO, Simona Ciorita Aurivo Dairy Advisor, Catherine Dooley, David Dolan, Donal Tierney Aurivo CEO
Lowest TBC in Liquid Milk
Brian Gallagher – Castlefinn, Co. Donegal
Father and sons' team, Brian, Stephen, and Mark milk 109 Holstein Friesian cows on their 80-hectare of land in Castlefinn, Co Donegal. The family team credit their success to meticulous cleanliness and attention to detail, as well as a consistent milking routine.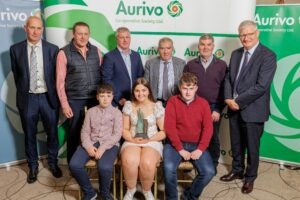 Back row: Raymond Barlow Aurivo Chairman, Lawrence McNamee Aurivo Board, Paul Cullinan Aurivo Dairy Advisor, Brian Gallagher, Stephen Gallagher, Donal Tierney Aurivo CEO
Font row:  Ciarán Gallagher, Laura Gallagher, Niall Gallagher
Most Improved SCC
John & Evan Hunt – Tubbercurry, Co. Sligo
Father and son team John and Evan Hunt operate a sixth-generation dairy farm in Tubercurry, Co Sligo. John and Evan milk 122 cows on the 55-hectare farm. Awarded for the most improved somatic cell count, John and Evan credit the accomplishment to milk recording and managing the data available to them to make continuous improvements.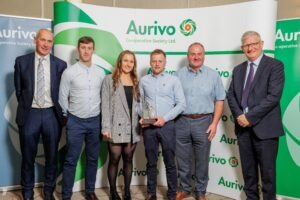 Left to right: Raymond Barlow Aurivo Chairman, Tommie Devine Aurivo Dairy Advisor, Eirene Cullane, Evan Hunt, Martin Gallagher Aurivo Board, Donal Tierney Aurivo CEO
Highest Average Milk Solids
Three Bends Dairy – Eamonn Heaney – Craughwell, Co. Galway
Eamonn Heaney operates a fourth-generation farm which has been in business on the Heaney family land since the 1930s. Today, Eamonn milks 220 crossbreed cows on 147 hectares, with the help of his wife Trish and their four children. Recognised for the best practice resulting in the Highest Average Milk Solids, Eamonn credits the award to grass management and breeding, and has been using AI since 1957, when it first began.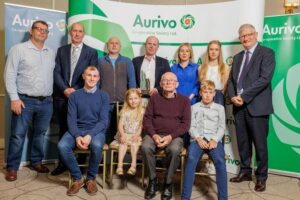 Back row: Kevin Callanan Aurivo Board, Raymond Barlow Aurivo Chairman, Tom Heaney, Eamonn Heaney, Trish Heaney, Kate Heaney, Donal Tierney Aurivo CEO
Front row: Killian Bannon Aurivo Dairy Advisor, Adeline Heaney, Michael Heaney, Noah Heaney.
Best New Entrants
Kilbegnet Dairy – Creggs, Co. Roscommon
Aisling Ward and her family farm 350 acres in Creggs, Co Roscommon, where 300 crossbreed cows graze. Kilbegnet Dairy credits the award of Best New Entrant and its successful start in dairying to breeding selection, grassland management and starting with the best stock available.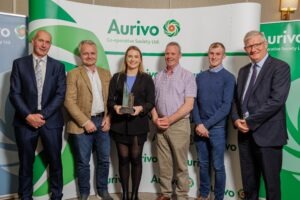 Left to right: Raymond Barlow Aurivo Chairman, Michael Ward , Aisling Ward, Michael Kenny Aurivo Board, Killian Bannon Aurivo Dairy Advisor, Donal Tierney Aurivo CEO
Best Northern Ireland Supplier
Mona & Peter Millar – Coleraine, Co. Derry
The Millar family are second generation farmers in Coleraine, Co Derry, where Peter and his mother Mona milk 130 Holstein cows on 250 acres of land. Peter and Mona credit their success to continuous improvements in herd genetics and in sourcing stock buy-in from top PLI herds in the UK, as well as a great focus on nutrition.
Lowest TBC in Manufacturing Milk
James Ward – Dunmore, Co. Galway
The Ward family began farming on the 170 acres in Dunmore in 1970, with James taking over the family farm from his parents Michael and Mary in 2001. James converted to dairy farming in 2012 and now milks 96 Holstein Friesian cows. James credits his success to strict, consistent hygiene regimes.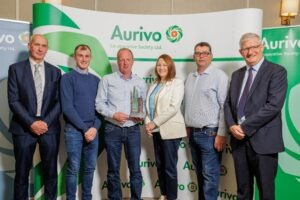 Left to right: Raymond Barlow Aurivo Chairman, Killian Bannon Aurivo Dairy Advisor, James Ward, Mary Reddington, Kevin Callanan Aurivo Board, Donal Tierney Aurivo CEO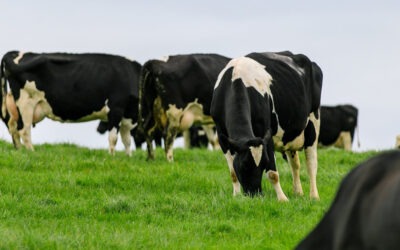 Aurivo Co-operative is pleased to confirm that its Offer to the Board of Arrabawn to acquire its branded liquid Milk, butter and van sales business has been approved by the CCPC.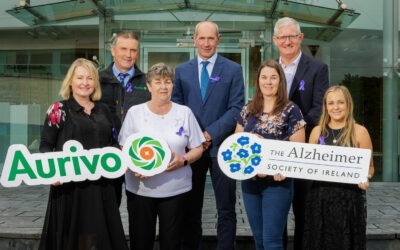 Aurivo Co-Operative has announced its 2023 annual charity partner as the Alzheimer's Society of Ireland. Over the next 12 months, Aurivo employees will organise fundraising events for the Alzheimer's Society of Ireland as part of the co-op's Charity of the Year Programme, with Aurivo matching all funds raised by these efforts.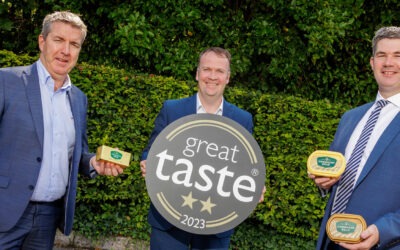 Connacht Gold Half Fat Butter awarded two stars for its renowned quality and taste.
Title

Address

Description

Finisklin Business Park, Finisklin, Sligo, Ireland

Aurivo House
Finisklin,
Sligo.
Phone: 071 9186500
Fax: 071 9185239
Email:

Aurivo Dairy Ingredients, Lung, Ballaghaderreen, Co. Roscommon, Ireland

Aurivo Dairy Ingredients
Ballaghaderreen,
Co. Roscommon
Phone: 094 9860114
Fax: 094 9860157
Email:

Unit 7A, The Mill Business Park, Dublin Rd, Kilcolman, Ballaghadereen, Co. Roscommon, Ireland

Aurivo Animal Feeds
Ballaghaderreen,
Co. Roscommon
Phone: 094 9860234
Fax: 094 9860238
Email:

Homeland, Ballaghaderreen

4 College Ct, Ballaghaderreen, Co. Roscommon, F45 DR13, Ireland

Contact Name: Francis McDonagh
Address: Ballaghaderreen, Co. Roscommon
Phone: 094 9860081
Fax: 094 9860373
Email:

Farm Commercial Specialist: Gary Keane
Mobile: 087 185 4535

Opening Hours:

Monday - Friday - 9am-5.30pm
Saturday - 9am-4pm

Crossmolina Rd, Ballina, Co. Mayo, Ireland

Contact Name: Donal Tuohy

Address: Crossmolina Rd, Ballina, Co Mayo.
Phone: 096 73588
Fax: 096 73589
Email:

Farm Commercial Specialist: Gary Keane
Mobile: 087 185 4535

Opening Hours:
Mon - Fri: 9am - 5.45pm
Sat: 9am - 5pm

Glencar, Fortfield, Moneenbradagh, Castlebar, Co. Mayo, Ireland

Manager: Larry Hughes
Address: Springfield, Castlebar, Co. Mayo
Phone: 094 9022311
Fax: 094 9022910
Email:

Farm Commercial Specialist: David Whelan
Mobile: 087 367 4073

Opening Hours:
Mon - Fri: 9am - 5.45pm
Sat: 9am - 4.30pm

5 Castlebar Rd, Carrowbeg, Westport, Co. Mayo, Ireland

Contact Name: Alan Gibbons
Address: Lodge Rd, Westport, Co. Mayo
Phone: 098 27535
Fax: 098 27543

Farm Commercial Specialist: David Whelan
Mobile: 087 367 4073

Opening Hours:

Monday - Sat - 9am-5.30pm

2 Fraunhill, Swineford, Co. Mayo, Ireland

Contact Name: Darragh Halligan
Address: Swinford, Co Mayo.
Phone: 094 9251360
Fax: 094 9251360
Email:

Farm Commercial Specialist: Gary Keane
Mobile: 087 185 4535

Opening Hours:
Monday - Friday - 9am-6pm
Saturday - 9am-5pm

Achonry, Co. Sligo, Ireland

Address: Achonry, Tubbercurry, Co.Sligo
Phone: 071 9184127

Farm Commercial Specialist: Emer Reilly
Mobile: 087 173 8249

Opening Hours:
Mon, Tues, Wed, Fri: 9am - 5.30pm
Thurs, Sat: 9am - 1pm
Closed for Lunch from 1.30pm to 2.15pm

Homeland Plus, Deep Water Quay, Sligo

Icos House, Finisklin Rd, Cartron, Sligo, Ireland

Contact Name: Andrew Hodgson
Address: Deep Water Quay, Sligo
Phone: 071 9161879
Fax: 071 9150274
Email:

Farm Commercial Specialist: Emer Reilly
Mobile: 087 173 8249

Opening Hours: Mon - Fri: 9am - 6pm
Sat - 9am - 5.30pm

R362, Co. Roscommon, Ireland

Contact Name: Tony White
Address: Athleague, Co Roscommon.
Phone: 090 6663322
Fax: 090 6663580
Email:

Farm Commercial Specialist: James Kelly
Mobile: 087 272 3636

Farm Commercial Specialist: Mark Whelan
Mobile: 087 608 2036

Opening Hours:
Mon - Fri: 9am - 6pm
Sat: 9am - 4pm
Closed for lunch 1pm - 2pm

Longford House, Longford, Castlerea, Co. Roscommon, Ireland

Manager: John Ruane
Address: Castlerea, Co Roscommon.
Phone: 094 9620162
Fax: 094 9620978
Email:

Farm Commercial Specialist: Colm Duffy
Mobile: 087 092 9434

Opening Hours:
Mon - Fri: 9am - 5.30pm
Sat: 9am - 4pm
Closed for Lunch 1pm - 2pm

R294, Rathscanlan, Co. Sligo, Ireland

Contact Name: Francis Gallagher
Address: Ballina Rd., Tubbercurry, Co. Sligo
Phone: 071 9185571
Email:

Farm Commercial Specialist: James Fitzmaurice
Mobile: 086 600 1400

Opening Hours:
Mon - Fri: 9am - 5.30pm
Sat: 9am - 4.30pm

Homeland Agri, Riverstown

Cuiltylough, Riverstown, Co. Sligo, Ireland

Contact Name: David Currid
Address: Riverstown, Co. Sligo
Phone: 071 9165103
Fax: 071 9165334
Email:

Farm Commercial Specialist: Emer Reilly
Mobile: 087 173 8249

Opening Hours:
Mon - Fri: 9am - 5.30pm
Sat: 9am - 1.00pm
Closed for lunch 1.30pm - 2.15pm

R293, Keenaghan, Co. Sligo, Ireland

Contact Name: Tim Lavin
Address: Ballymote, Co. Sligo
Phone: 071 9183452
Fax: 071 9183023

Farm Commercial Specialist: Emer Reilly
Mobile: 087 173 8249

Opening Hours:
Tues - Fri: 9am - 5.30pm
Mon, Sat: 9am - 1pm
Closed for lunch 1.30pm - 2.15pm

N59, Co. Sligo, Ireland

Contact Name: Conor Dunleavy
Address: Skreen, Co. Sligo
Phone: 071 9166711
Fax: 071 9166796

Farm Commercial Specialist: James Fitzmaurice
Mobile: 086 600 1400

Opening Hours:
Mon, Tues, Thurs, Fri: 9.30am - 5.30pm
Sat: 9am - 4.45pm.
Closed Wed and Sunday.

2 Clareville, Clare, Co. Mayo, Ireland

Contact Name: Shane Kivlehan
Email:
Address: Claremorris, Co. Mayo
Phone: 094 9371292
Fax: 094 9371292

Farm Commercial Specialist: David Whelan
Mobile: 087 367 4073

Opening Hours:
Mon - Fri: 9am - 5.30pm
Sat: 9am - 5pm

Abbey View, Abbey Rd, Friarsquarter West, Ballinrobe, Co. Mayo, Ireland

Contact Name: Michael Canny
Address: Ballinrobe, Co. Mayo
Phone: 094 9541134
Fax: 094 9520015
Email:

Farm Commercial Specialist: David Whelan
Mobile: 087 367 4073

Opening Hours:
Mon - Fri: 9am - 5.30pm
Sat: 9am - 5pm

2 Spa Brae, Kinlough, Co. Leitrim, Ireland

Contact Name: Ernan McGarrigle
Address: Kinlough, Co. Leitrim
Phone: 071 9841413
Email:

Farm Commercial Specialist: Emer Reilly
Mobile: 087 173 8249

Opening Hours:
Mon, Tues, Wed, Fri, Sat: 9am - 5.30pm
Closed Thurs
Closed through lunch 1pm - 2pm

Nagin House, Creevy, Ballyshannon, Co. Donegal, Ireland

Contact Name: Hugh McGarrigle
Address: Cashelard, Ballyshannon, Co. Donegal
Phone: 071 9851296
Fax: 071 9852448
Email:

Farm Commercial Specialist: Emer Reilly
Mobile: 087 173 8249

Opening Hours:
Mon - Fri: 9am - 5.15pm
Sat: 9am - 4pm.
Closed for Lunch 1.15pm to 1.45pm

Moydrum Rd, Blyry Upper, Athlone, Co. Westmeath, Ireland

Contact Name: Stephen Browne
Address: Moydrum Business Park, Cavan Exit, Main Dublin Road, Athlone.
Phone: 090 6465652
Email:

Farm Commercial Specialist: James Kelly
Mobile: 087 272 3636

Opening Hours:
Mon - Fri 9am - 5.30pm
Sat 9am - 4.30pm (Open through lunch)
Closed for lunch 1pm - 1.45pm

R293, Co. Sligo, Ireland

Contact Name: Kevin Kane
Address: Gurteen, Co Sligo.
Phone: 071 9182007
Fax: 071 9182054
Email:

Farm Commercial Specialist: Colm Duffy
Mobile: 087 092 9434

Opening Hours:
Mon, Tues, Wed, Fri: 9am - 5.30pm
Thurs & Sat: 9am - 1pm
Closed for lunch 1pm - 2pm

Quay Rd, Townplots East, Co. Mayo, Ireland

Contact Name: Eamon Killeen
Address: The Quay, Killala, Co Mayo.
Phone: 096 32044
Fax: 096 32315

Farm Commercial Specialist: Gary Keane
Mobile: 087 185 4535

Opening Hours:
Mon - Sat: 9am - 5pm

Station Rd, Termon, Co. Roscommon, Ireland

Contact Name: Paul Fahy
Address: Boyle, Co Roscommon.
Email:
Phone: 071 9662427

Farm Commercial Specialist: Colm Duffy
Mobile: 087 092 9434

Opening Hours:
Mon, Tues, Thurs, Fri: 9am - 5.30pm
Wed, Sat: 9am - 1pm
Closed for lunch 1pm - 2pm

N83, Kilmannin, Co. Mayo, Ireland

Contact Name: Joe Slattery
Address: Ballyhaunis, Co Mayo
Phone: 094 9630166
Fax: 094 9630274
Email:

Farm Commercial Specialist: Mark Whelan
Mobile: 087 608 2036

Opening Hours:
Mon - Sat: 9am - 5.30pm

R297, Co. Sligo, Ireland

Contact Name: John Holmes
Address: Castletown, Easkey, Co Sligo.
Contact:
Phone: 096 49043

Farm Commercial Specialist: James Fitzmaurice
Mobile: 086 600 1400

Opening Hours:
Mon, Wed, Thurs, Fri: 9am - 5.30pm
Closed for lunch: 1-2pm
Closed Tue/Sun
Sat 9am - 4.30pm (open through lunch)

Homeland Agri, Kiltoghert

R299, Co. Leitrim, Ireland

Contact Name: James McDermott
Address: Carrick on Shannon, Co Leitrim.
Phone: 071 9622113
Fax: 071 9622249
Email:

Farm Commercial Specialist: Colm Duffy
Mobile: 087 092 9434

Opening Hours:
Mon - Fri: 9am - 5.30pm
Sat: 9am - 4pm
Closed for Lunch 1pm - 2pm

1 Hyde St, Mohill, Co. Leitrim, N41 V6T4, Ireland

Contact Name: Fiona Creamer
Address: Mohill, Co Leitrim.
Phone: 071 9631194
Fax: 071 9632057

Farm Commercial Specialist: Colm Duffy
Mobile: 087 092 9434

Opening Hours:
Mon - Fri: 9am - 5.45pm
Sat: 9am - 5.30pm

Middle Rd, Ballyboe Lisnenan, Letterkenny, Co. Donegal, Ireland

Contact Name: Dominick Gallagher
Address: Ballyraine, Letterkenny
Phone: 074 9113314
Fax: 074 9124823

Farm Commercial Specialist: Johnathan Smyth
Mobile: 078 333 80089

Opening Hours:
Mon - Sat: 9am - 5.30pm

Letterkenny Rd, Lifford, Co. Donegal, Ireland

Contact Name: Joe Carlin
Address: Lifford
Phone: 074 9141558
Fax: 074 9141961
Email:

Farm Commercial Specialist: Johnathan Smyth
Mobile: 0044 7833 380089

Opening Hours:
Mon - Sat: 9am - 5pm :
Closed for Lunch 1pm to 1.30pm

Homeland Agri, Creeslough

Sue's Cottage, Rosscad, Creeslough, Co. Donegal, Ireland

Contact Name: Mark Alcorn
Address: Creeslough
Phone: 074 9138078
Fax: 074 9138079

Farm Commercial Specialist: Johnathan Smyth
Mobile: 0044 7833 380089

Opening Hours:
Mon - Fri: 9am - 5.30pm
Sat - 9am - 5pm
Closed for Lunch 1pm - 2 pm

Corner House, The Diamond, Drumbaran, Ardara, Co. Donegal, Ireland

Contact Name: Laurence Breslin
Address: Ardara
Contact:
Phone: 074 9541888
Fax: 074 9537745

Farm Commercial Specialist: Emer Reilly
Mobile: 087 173 8249

Opening Hours:
Tues - Fri: 9am - 5.30pm
Sat: 9-5pm
Closed for Lunch 1pm - 2pm

10 Dromore Rd Retail Park, Omagh BT78 1RE, UK

Manager:  David Keith
Address: Dromore Rd Retail Park, Omagh
Contact:
Phone: 028 82 244184
Fax: 028 82 240909

Farm Commercial Specialist: Johnathan Smyth
Mobile: 0044 7833 380089

Opening Hours:
Mon - Fri - 9am - 5.30pm
Sat - 9am - 5pm
Closed through lunch - 1pm - 2pm

R246, Co. Donegal, Ireland

Contact Name: Derek Stewart
Address:  Kerrykeel
Phone: 074 9150179
Fax: 074 9150193
Email:

Farm Commercial Specialist: Johnathan Smyth
Mobile: 0044 7833 380089

Opening Hours:
Mon - Sat: 9am - 5.30pm
Closed for Lunch 1pm - 2 pm

Cartrongeeragh Business Park, Athlone Road, Cartronageeragh, Co. Longford, Ireland

Contact: Padraig Heany
Address: Athlone rd., Longford
Contact:
Tel: 043 3336286

Farm Commercial Specialist: Colm Duffy
Mobile: 087 092 9434

Opening Hours:
Monday - Friday 9am - 6pm
Saturday - 9am - 4.30pm
Closed for lunch - 1.15pm - 2pm

Áras Mhaoilchiaraín, Chapel St, Belmullet, Co. Mayo, Ireland

Manager: Stephen Killeen
Address: Chapel Street, Belmullet, Co. Mayo
Contact:
Tel: 097 81109

Farm Commercial Specialist: James Fitzmaurice
Mobile: 086 600 1400

Opening Hours:
Mon - Fri - 9-am - 5:30pm
Sat - 9am - 4pm

1, Carrigeens, Ballinfull, Co. Sligo, F91 K5D7, Ireland

Address: Ballinfull, Co. Sligo
Phone: 071 9163154

Farm Commercial Specialist: Emer Reilly
Mobile: 087 1738 249

Opening Hours:
Mon - Fri - 9am - 5.30pm
Sat: 9am -4pm
Closed for lunch: 1- 2pm

Aurivo Livestock Mart Ballymote

Laburnum Lodge, Fairgreen Rd, Rathnakelliga, Ballymote, Co. Sligo, Ireland

Manager: Stephen Hannon
Tel: 0818 301 401
Bookings: Pre Booking Monday 9.30 am – 1.00 pm for Thursday Sale

Aurivo Livestock Mart Ballinrobe

Abbey St, Friarsquarter West, Co. Mayo, Ireland

Manager: Tom Mc Guire
Tel: 094 95 41140
Bookings: Pre Booking Friday 9.30 am – 1.00 pm for Wednesday Sale

Aurivo Livestock Mart Balla

N60, Co. Mayo, Ireland

Manager: Michael Murphy
Tel: 0818 301 401
Bookings: Pre Booking Wednesday for Sat Sale 9.30 am – 11.00 am for Bullocks/Heifers
11.00 am – 1.00 pm for all Cows
Pre Booking Thursday for Weanling Sale 9.30am – 1pm

Aurivo Livestock Mart Mohill

1 Cappagh, Mohill, Co. Leitrim, Ireland

Manager: Stephen Hannon
Tel: 0818 301 401
Bookings: Pre Booking Tuesday 9.30 am – 1.00 pm for Saturday Sale